CHARM AND TRANQUILITY
Located at the edge of the National Park of Etna, this old wine property from nineteenth century dominates the Ionian Sea and the Bay of Taormina. Surrounded by a 30 000 sqm garden with swiming pool, Casa Gallida offers guest rooms and a two bedrooms apartment decorated with charm. Whether to relax, visit the area or take advantage of the cultural richness of Sicily, the property is ideally located between mountains and sea, 45 km from the international airport of Catania, 20 Km from Taormina, 10 minutes from the beaches and 20 minutes of Mount Etna.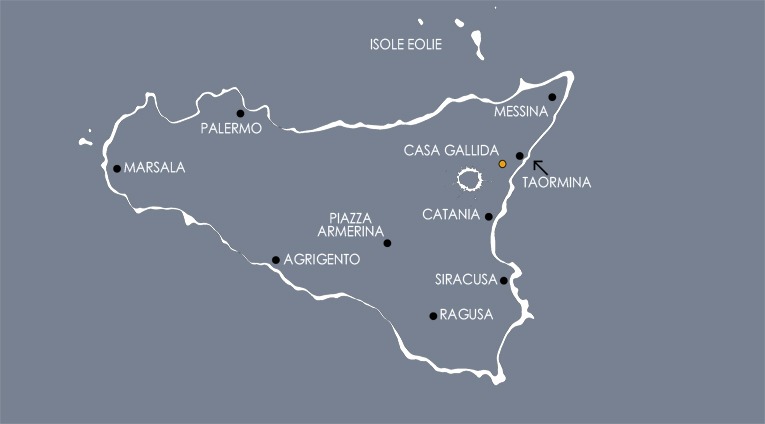 THE GARDEN
The 30 000 sqm of land, surrounding the property
will allow you to appreciate the peace of our region.
TERRACES
From the swimming pool to the house,
400 sqm of terraces
you will enjoy switching between sun and shade.
SALTWATER SWIMMING POOL
Saltwater swimming pool is more environmentally safe.
You won't have to suffer of odor of chlorine,
you won't have to deal with dry skin and fading swimming suits.
 Just have to enjoy...
THE HOUSE
Build in 1840, this old wine property, made of lava stones, consisted of a main house, a wine cellar and wine press.

Today, dependencies were fitted to receive our guests.